The first meal of the day has to be nourishing. It should have ample calories to give your little one a kickstart for the day. A breakfast recipe for babies should be a healthy mix of taste and nutrition. While there are several breakfast ideas for babies, it can get a bit challenging to make a new breakfast menu every day.
That is precisely why Mom Junction helps you make a healthy nutritious breakfast for your baby every day. ! We tell you about the various healthy breakfast foods for babies and the processes involved in making them.
First, let's take a brief look at the importance of breakfast.
Why Is Breakfast Important?
Breakfast is crucial for babies for the same reason it is for adults. It provides calories for initiating body's metabolic processes. Even if your baby is fed in the middle of the night, his body would have surely depleted the resources by morning.
Learning some breakfast recipes will let you know what exactly you need to make in the morning.
15 Breakfast Recipes For Babies
These are some amazing breakfast ideas for your baby's menu. Remember, breastmilk is the only food your baby must consume until the age of six months. Thereafter, you can introduce solid foods that can make great breakfast foods for babies. Many of these recipes incorporate the use of formula milk since it is the only milk your baby can consume apart from breast milk. You can use expressed breast milk in the place of formula milk, or simply add water (as you will subsequently read in the recipes). All these breakfast recipes are for babies between six and 12 months of age. This is the age when the baby develops a taste for solid food. Therefore, these recipes can actually be baby-led weaning breakfast ideas.
1. Multi-vegetable puree: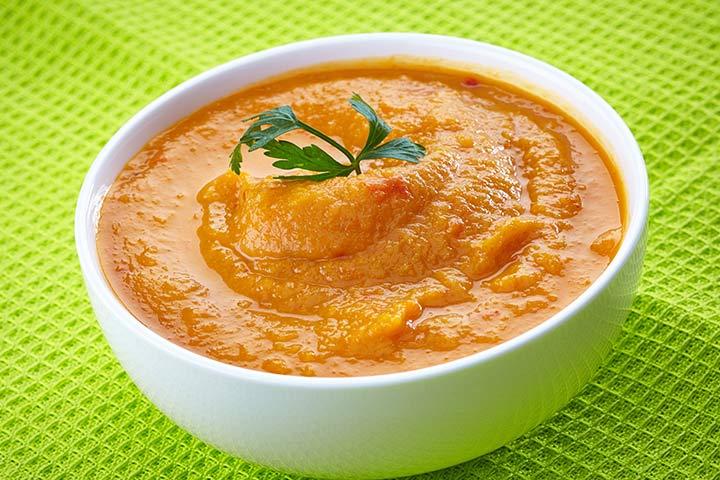 It is a simple and classic breakfast for babies and quite popular as the first breakfast for the baby.
You will need:
Vegetables of your choice such as potatoes, peas, carrots, etc.
Water
How to:
Start by choosing a mix of vegetables that you would normally give your baby. Cook the vegetables in a pressure cooker till they are soft and tender.
Transfer the vegetable and the stock to a blender and blend them till they reach a thin consistency. Vegetable stock contains lot of vital nutrients so never drain it away.
Add some boiled water to further thin the consistency of the puree if required. Once done, let the mixture cool down and feed it to your little one.
2. Fruit puree: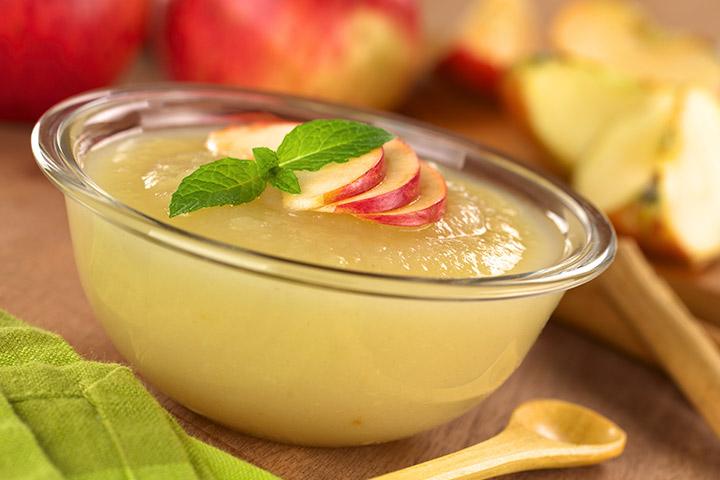 This is the fruit equivalent of the vegetable puree that has all the goodness of fresh fruits.
You will need:
Fruits of your choice such as apples, mangoes, bananas
Water
How to:
Fruit puree is a healthy and nutritious breakfast for your little one. Start by peeling and pureeing the fruits of your choice. You can do this putting the fruits in a blender.
Add water to thin the mixture if required. Once done you can serve the puree as a breakfast food to your baby.
3. Banana and rice porridge: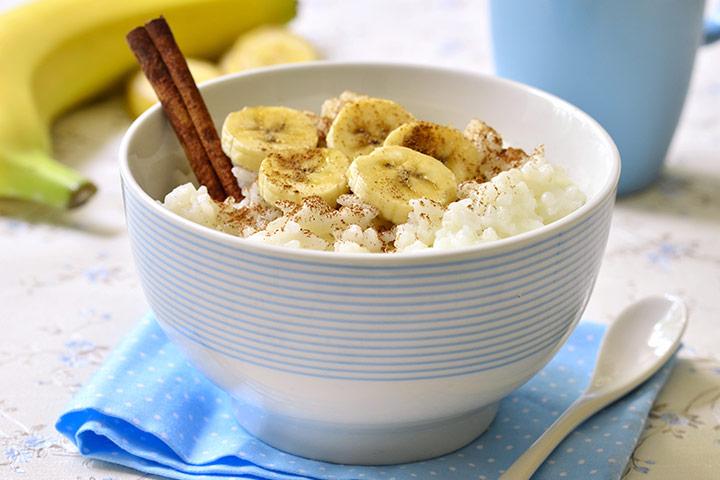 Porridge is healthy for adults but also makes an amazing breakfast for babies. A conventional porridge is made using milk, but since we are preparing it for babies, you can opt out of it or use formula or expressed milk instead.
We use rice here since it is gluten-free, unlike wheat, therefore, you need not worry about allergies. It is for this reason, rice flakes can make a great breakfast cereal for babies.
You will need:
1 cup rice or rice flakes
1 cup chopped banana
3 cups water
1 cup formula or expressed milk (optional)
How to:
Start by cooking the rice or rice flakes by boiling them in a cooking pot till they are soft and mashy without any presence of solid grains.
Once the rice is cooked, add some chopped bananas and formula or expressed milk (optional) in the same cooking pot and cook them together for two to three minutes. Keep stirring the mixture so that the banana and rice mix well. In case you would like to dilute the porridge, add some water and cook for additional three to four minutes.
Once done, let the porridge cool before feeding. This makes a highly nutritious breakfast for your baby.
4. Oatmeal Banana Porridge:
To read the whole article, do visit http://www.momjunction.com.